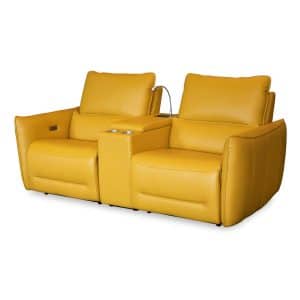 If you are looking for a 2 Seater Home Theatre Recliner in Brisbane you have found the right place
2 Seater Home Theatre Recliner in
Brisbane 
Finding a decent quality 2 seater home theatre recliner in Brisbane at the right price could be one of lifes little mysteries. Looking around at the main retailers may lead you to think that home theatre recliners are only availble in one configuration and a couple of coours. At Devlin Lounges you can choose any of our home theatre recliners and many of our recliner lounge suites in a 2 seater home theatre recliners configuration.
2 Seater HomeTheatre Recliners in Leather
Nothing cries class more than the touch, feel and scent of genuine 100% leather. There may be retailers that quote leather for there home theatre recliners but have the back and sides covered with a generic synthetic material. Our experience is this sythetic material that some retailers call leather will not stand the test of time. We have been in business sine 2003 and stand by our product and desire to make sure quality is our number one priority. A wide selection of leather colours is available. From the traditional home theatre colours of black or red, you can also order mustard, lime or taupe to suit your decor.
Dual Seat Home Cinema Recliner in Fabric
If a fabric home theatre recliner is more your speed, we offer all our 2 seater hom etheatre recliners with a fabric option. Warwick fabrics are our major fabric house. You select the fabric you prefer and we send your selection to our factory. This way you get so much more flexibility if you just want a 2 seater recliner sofa for a retirement unit or apartment.
3 Seater and 4 Seater Home Theatre Recliner Available
Done be held back by what the retailer is trying to sell you. At Devlin Lounges you can order your home theatre recliners in 2 seat, 3 seat, 4 seat and any amount of seats you like. You can also configure them with consoles or without. Some of our home theatre recliners alo have lights and all are available with USB buttons so you can charge your device while watching your favourite movie. Most of our recliners are available as electric motorised recliners or manual recliners if that is your preference.