M109 Red Leather Dining Chair
$551.00
A Red Leather Dining Chair Makes a Statement
If you are in Brisbane and are finding it a challenge to source the dining chair you really want, look no further. Red Leather Dining Chairs make a statement in any dining area. The M109 Dining Chair is hand made using hardwood frames an is available in 100% leather in a variety of colours, or your choice of Warwick Fabric.
Construction
The M109 dining chairs are made using hardwood in the frame. Three leg colours can be chosen, from dark, to nutmeg, or teak to match with your dining table. As mentioned there are many colours of leather available. The dining chair is displayed in Red Leather, which has stood the test of time and is still one of our most popular colours. The seat is made using high quality foam, and you can choose from either having a webbing base, or a plywood base if you prefer a firmer seat.
At Devlin Lounges you can purchase 100% Leather that will last for many years. The comfort of leather coupled with the robust frame of the M109 Leather Dining Chair will ensure your dining area will show both class and comfort for the many enjoyable hours spent around your dining table. If you want to reduce your price PU (Vinyl) is also available in a selection of colours.
Options
Devlin Lounges also has several other styles of dining chairs to choose from. All are available as either leather or Warwick fabric to suit your space.
Available Leather Colours: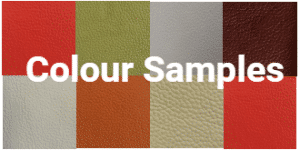 Price dependant on fabric or type of leather used.
Description
Width
(cm)
Depth
(cm)
Height
(cm)
Price 
From*
Dining Chair
50
58
90
$551