Linen Sofas
The classic Linen Sofa has become extremely popular in modern living rooms. From French Chique to American Colonial style the Linen Sofa is a "go to" lounge with its neutral colour and soft feel. Linen Sofas are very popular with Interior Designers and you can walk into any major furniture retailer in the world and you can almost guarantee there will be one in their showroom.
What is Linen?
Proper Linen is made from the fibres of the Flax plant. They are woven together which can be quite time consuming, but the benefit is that the fabric is durable and cool. Obviously this is a benefit if living in the warmer climes. Linen is generally stiffer than cotton, but also has the benefit of lasting a bit longer. It is hypo allergenic through its natural ability to prevent the growth of bacteria, has strong fibres to retain its shape and is highly breathable. Its natural fibres are long which helps it retain its strength, rather than cotton which has its fibres "spun" together. Linen has been in use for over 8000 years and has proven to be the most popular fabric in Europe for thousands of years, and is generally renowned as the strongest natural fibre.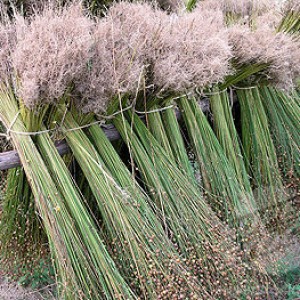 What is Linen used for?
The main usages for linen include Furniture, sheets, clothes and because of its high absorbency, bath towels, dish towels and other household purposes. There are occasions when other materials are manufactured using a similar process and loosely called linen. Cotton and Hemp are two examples of fibres that are sometimes passed off as Linen. Take note: If you are paying for a "Linen Sofa", do a little extra research and find out if it is Linen from the Flax plant (mostly grown in Europe), or another fibre passed off as Linen such as cotton or hemp. Linen is generally more expensive, but the benefit could very well out weigh the cost.
Linen Sofas (or is that Lounges or Couches)
It doesn't really matter, it s a sofa by any other name:-) If you are going to spend good money on a quality linen fabric, why sacrifice the quality of the lounge. As mentioned in our current series of articles on purchasing a new lounge, there are many things to consider when purchasing a lounge. In particular:
The quality of the frame – is it either hardwood, or good quality pine, ash or similar timber. A good test for this is to pick the couch up from the corner and note the movement in the frame. It is normally OK if it moves up to about 3 centimetres, but if it is moving more than that, it could mean the frame is not of the standard you would expect for the price. That said, if you are only after a "Linen Look" lounge and do not want to spend an exorbitant amount of money, the quality of the frame may not be that important to you.
Cushioning – Is it sprung seating, or is it foam, or even feather? A little while ago feather/foam cushions were becoming more popular as a seating cushion but I have to say, they require "puffing up" after every use, and you tend to slip down the cushion – not really that comfortable, although they do look great on a linen sofa. Sprung seats or a good quality foam tend to retain there shape and comfort for much longer, but you don't get the soft look of a feather/foam cushion.
A good quality webbing in the base will last for years. Again, if you manage to buy a sofa with a good quality frame, the opportunity exists to get it re upholstered, re cushioned or re webbed to bring it back to new! It is the same old cliche – YOU GET WHAT YOU PAY FOR.

What to do when buying a Linen Sofa?
Ok, so what do you do? Firstly, if you are keen on buying an authentic linen sofa – make sure you do your research, in particular:
ask about the source of the fabric – is it from the Flax plant (or European sourced).
Expect to pay big dollars for authentic linen.
Make the decision if having authentic linen is that important to you, based on your usage and budget.
Make the decision regarding frame and cushioning based on budget and usage. Do you want to keep it for a long time as a family heirloom, or is it really just for the "look"
Before investigating or buying a lounge write down what you want, your budget and maybe your expectations regarding the usage. This will help both yourself and the supplier "fit" you to the sofa that will suit you purchases.
Devlin Lounges
Don't forget, Devlin Lounges re upholster and build quality lounges and sofas in our own workshop, so if you have a specific design for a couch, or a desire to support Australian Made products. Or even if you just want some information regarding purchasing your next lounge or sofa PLEASE give us a call. We are more than happy to help.