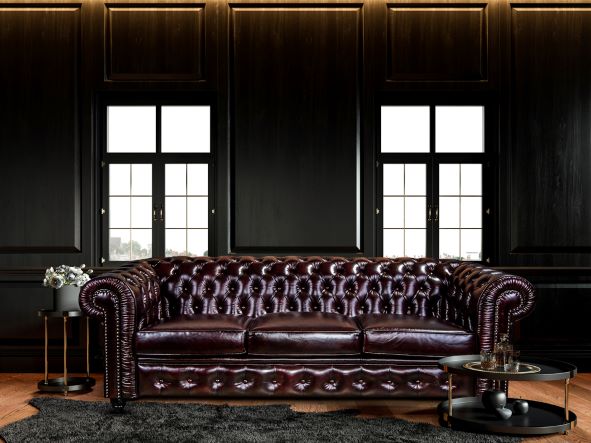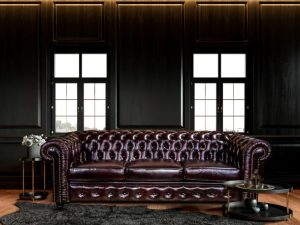 The Chesterfield Sofa – A Timeless Classic
A Chesterfield sofa is a timeless and classic piece of furniture that has maintained its popularity and appeal for centuries. There are several key factors that contribute to the Chesterfield sofa's timeless status:
Iconic Chesterfield Design:
The Chesterfield sofa fea is one of Devlin Lounges biggest sellers and for good reason. tures a distinctive and recognisable design characterised by its deep button-tufted backrest, rolled arms, and a low back with high arms. This classic design exudes elegance and sophistication, making it instantly recognisable and memorable.
Quality Chesterfield Craftsmanship:
Timeless Chesterfield sofas are typically crafted with a high level of craftsmanship and attention to detail. They are often handmade by skilled artisans, ensuring that the sofa is not only aesthetically pleasing but also built to last. The use of high-quality materials, such as premium leather or fine upholstery fabrics, contributes to the sofa's durability.
Durability:
A Chesterfield sofa is built to withstand the test of time. The use of strong hardwood frames and robust suspension systems ensures that it can withstand the rigors of daily use. This durability is one of the reasons why many Chesterfield sofas are passed down through generations.
Versatility of a Chesterfield Sofa:
The Chesterfield sofa's design is remarkably versatile. It can seamlessly fit into a wide range of interior styles, from traditional and vintage to modern and eclectic. Its timeless design means it can be placed in various settings without feeling out of place.
More Comfortable than What you Think:
Despite its classic appearance, the Chesterfield sofa is known for its comfort. The deep button-tufting and ample cushioning make it a cozy and inviting piece of furniture, perfect for lounging and relaxation.
Historical Significance:
The Chesterfield sofa has a rich history that adds to its timeless appeal. It is said to have originated in the early 18th century and is associated with English design and craftsmanship. This historical significance and connection to tradition make it a symbol of enduring style.
Adaptability:
Over the years, the Chesterfield sofa has adapted to contemporary design trends without losing its core identity. While traditional leather Chesterfields remain popular, you can now find Chesterfield-inspired designs in a variety of colors, materials, and configurations, allowing them to cater to a broader audience.
Classic Colour Options:
Chesterfield sofas are often available in classic, neutral colours such as deep brown, rich burgundy, and elegant black. These colours are timeless and can easily integrate into various interior colour schemes, contributing to the sofa's enduring appeal.
Investment Piece:
Chesterfield sofas  often considered an investment piece due to its longevity and timeless design, can be a statement piece that not only enhances the aesthetics of a room but also retains or even appreciates in value over time.
Emotional Attachment:
Many people form emotional attachments to Chesterfield sofas. These pieces often become family heirlooms, passed down from one generation to the next, carrying with them the stories and memories of the past.
The Chesterfield sofa's timelessness can be attributed to its iconic design, quality craftsmanship, durability, versatility, comfort, historical significance, adaptability, classic color options, investment value, and the emotional connections it fosters. Whether used in traditional or contemporary settings, the Chesterfield sofa continues to be a symbol of enduring style and sophistication while making it a treasured piece of furniture that transcends trends and eras.